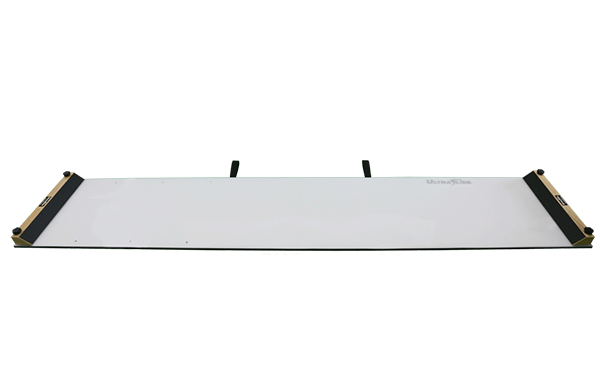 Varisport UltraSlide® 10 - Fitness & Sports Performance Trainer
Save

25

%
Save

25

%
Original price
$999.00
-
Original price
$999.00
Description

Features

Customization

Physical Therapy
 Varisport UltraSlide® 10 - Fitness & Sports Performance Trainer
 The UltraSlide® 10 is our premiere slideboard – the embodiment of the UltraSlide brand – found in the weightroom or athletic training room (and in many cases, both) of nearly every professional team in North America and many others around the world, as well as most of the top NCAA programs. It's designed for heavy institutional use and just like its younger sibling, the UltraSlide 8, it's entirely handmade and built to last using the finest materials. The slide length can be shortened to 7, 8, and 9 feet to accommodate a variety of athletes and training goals. An UltraSlide 10 slideboard with your team's logo will stand out in your room and motivate your players even more!
| | |
| --- | --- |
| Length | 120 in (304.8 cm) |
| Adjustment Length | 7, 8, & 9 ft (2.1, 2.4, & 2.7 m) |
| Width | 23.5 in (59.69 cm) |
| Weight | 69 lbs (31.30 kg) |
| Board Material | 9-ply premium FSC birch plywood with high pressure laminate finish |
| Board Thickness | 0.5 in (1.27 cm) |
| Surface Thickness | 0.125 in (0.32 cm) |
| Bumper Material | Reclaimed ash hardwood |
| Bumper Height | 2.25 in (5.72 cm) |
| Board Setup | Hinged baseboard folds in half with removable rollable surface |
| Non-Slip Pads | Made from recycled tires |
| Suitable Use | Institution or Home |
| Customizable Logo | Yes |
| Slide Slippers | Included |
| Slide Polish | Included |
UltraSlide® boards can be customized with the name, logo, and/or colors of a team, institution, or business. The cost of adding a custom logo to an UltraSlide 8 or 10 is a function of the size of the logo, usually ranging from $50 - $150, however the application of most logos costs between $60-80.

You may send us the logo via email in a high resolution file format (.eps vector, .ai, or high resolution .pdf) so that we can provide a proof for your review. Please contact us for more information or a price quote. Email: sales@hundredhustle.com

Note: UltraSlide boards with professional and NCAA team logos were created at the request of and for use by those organizations and may not be re-created for fans, alumni, or others. Licensing regulations apply.
UltraSlide® is a staple in physical therapy and rehabilitation facilities, from professional sports teams to private practice clinics to hospitals. Since our inception, many users have benefited from slideboard physical therapy exercises. Sliding on the UltraSlide is a low-impact, closed chain functional exercise that emphasizes the frontal plane movement that is so critical for return to play and activities of daily living. Using the physical therapy slideboards also improves strength, balance, coordination, core strength, and proprioception. Many parts of the body can benefit from slideboard physical therapy exercises.
Specific Benefits by Location:
Foot – strengthens plantar and dorsal muscles of the foot
Ankle – strengthens the deltoid, anterior talofibular, and calcaneofibular ligaments
Knee – recruits both dynamic and static stabilizers. Proven effective for ACL repairs and has become part of many clinics protocol for ACL repair rehabilitation.  Clinically proven effective for PCL, MCL, LCL, meniscus (both medial and lateral), and patellar femoral disorders
Core Stabilizers – including the obliques – are activated in all planes of motion to support consistent form and balance
Hip – addresses and enhances all hip movements including:

ab and adduction
internal and external rotation
flexion and extension
Contact sales@hundredhustle.com to order your physical therapy slideboard today!