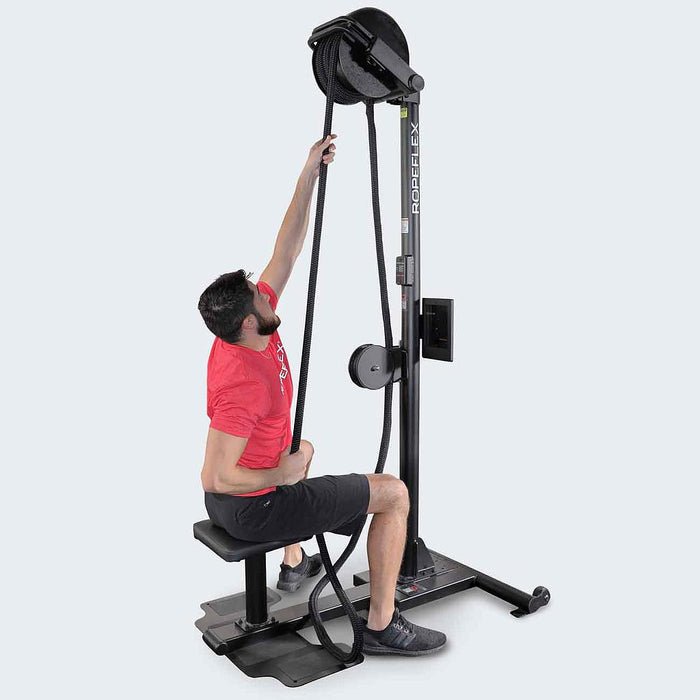 Ropeflex RX2500 Oryx Vertical Rope Adjustable Pulley Machine
Original price
$4,395.00
-
Original price
$4,395.00
Description

Product Features
Ropeflex RX2500 Oryx Vertical Rope Adjustable Pulley Machine
The benefits of climbing rope are no longer the exclusive province of elite athletes with the RX2500 ORYX™. Now, safe and effective rope-pulling exercise is available to athletes, students, fitness enthusiasts, and even for injury-rehabilitation purposes. No need to worry about the risks and inconvenience of hanging rope from the ceiling. The seat offers added stability and safety, and it is removable for wheelchair-accessibility. Progressive resistance™ adjusts to the needs of users of all fitness levels.
Progressive Resistance
Automatically adjusts resistance from 10lbs up to 200lbs, based on pulling speed and intensity.
Integrated Display
LCD display tracks time, speed (ft/ min), distance (total feet pulled), calories, and scan mode. Works independent of HIPERVISION.
Hand-Made Rope
GET A GRIP on our durable and pliable, polyester-weaved rope. Soft on hands and easy-to-clean. Available in black or burgundy-black colors.
Compliance & Mobility
Standard ADA compliant removable seat and transport wheels for easy unit positioning.
Adjustable Pulley
8-position pop-pin enables vertical, horizontal & diagonal pull configurations for a full body workout.
Hipervision System
Interactive training system for club members, group training, and individuals available as an ADD-ON.
Details & Specifications:

• Full size vertical rope trainer with transport wheels.
• Adjustable pulley for additional horizontal and bottom pulls.
• Removable cushioned seat for sitting and standing rope pulls.
• Continuously adjusting Progressive Resistance.
• ADA compliant.
Length: 48" (122 cm)
Width: 35" (89 cm)
Height: 91" (231 cm)
Weight: 160 lb (73 kg)
RX2500 HIIT
High Intensity Interval Rope Training Session 
Adjustable Pulley
Height adjustable pulley system on the RX2500 
RX2500 DualStation
Group training on the dual station RX2500