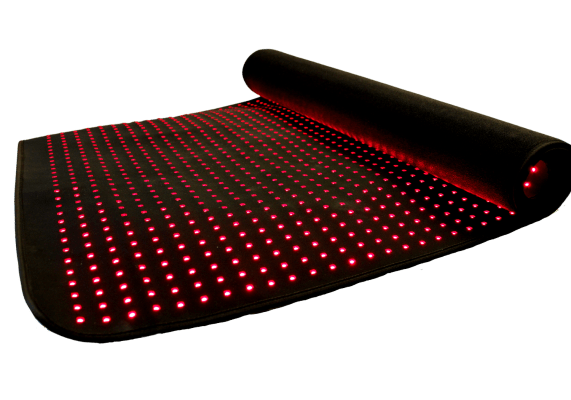 PRISM Whole Body Near Infrared Red Light Therapy Pads
Save

23

%
Save

23

%
Original price
$12,995.00
Original price
$12,995.00
-
Original price
$12,995.00
Original price
$12,995.00
Description

Benefits

About PRISM

Build a Successful Red Light Therapy Business
PRISM Whole Body Near Infrared Red Light Therapy Pads
Prism Light Pad is the industry's most adaptable, portable, and affordable whole-body red light pad with more than 2,200 660nm red and 850nm near-infrared LEDs. Thirty-minute automated sessions deliver 50 milliwatts per centimeter square of full-body mitochondrial wellness. Our red light therapy pads are the ONLY LIGHT PAD THAT YOU CAN LAY ON, and they deliver 360 degrees of whole-body red light therapy when you purchase two pads. It includes Prism's unique "one-button" automated user operation. 
We carry the largest red light therapy body mat in the industry measuring 72×36 inches in size. Ours is also one of the most portable red light therapy mats, as it rolls-up for easy storage and is ready to take on-the-road when you're traveling. The Prism Light Pad is the most-affordable whole-body red light system at $12,995. It delivers 360 degrees of whole-body red light therapy for $25,495 when two pads are purchased together. 
Rejuvenate, accelerate recovery, reduce inflammation, increase collagen production and anti-aging with the Prism Light Pad which is ideal for professionals and home-users. Aestheticians, massage therapists, physical therapists, salons, day spas, and more can generate more than $100,000 each year by implementing red light therapy pads into their business.
The prism light therapies include six settings optimized for:
Skin Conditioning and Anti-Aging;

 

improves and reduces Psoriasis, Acne, Eczema, Dermatitis, scar tissue and wrinkles by stimulating collagen production
Weight Loss;

 

lose inches by shrinking unwanted fat cells along with a holistic nutritional plan optimized for weight-loss and preventative maintenance
Sports Rehab and Recovery; repairs ligaments, tendons, muscles, stiffness & soreness from muscle and joint fatigue
Reducing Chronic Pain

 

& Disorders

 

from inflammation, nerve damage and auto-immune conditions and other disorders
Soothing Arthritis and Joint Pains

 

including Rheumatoid & Osteoarthritis, disc-degeneration
Wounds and Injury Healing

 

from sprains, strains, bone bruises and post-surgical procedures
The Prism Light Pod is the industry's most-advanced full-body light therapy system using cutting-edge technology. It provides deep red light therapy that's absorbed by your skin, muscles, deep tissues, joints, and body cells to accelerate healing and recovery by 4 to 10 times faster than your body's restoration process. Red light therapy offers unique mitochondrial healing which delivers more energy and speeds the regeneration of healthy body cells.
Build a Successful Red Light Therapy Business
Prism Light Pod is the only whole-body red light therapy system that supports 110V and 220V for maximum energy efficiency, making it a smart choice for business owners. Our founder is a former Chief Marketing Officer (CMO) & VP of Marketing at Fortune 100 world-class, high-technology companies. With more than 30 years of global marketing experience, Prism Light Pod is the only whole-body red light therapy equipment manufacturer in the industry to have created an in-house marketing & business consulting program.
We include our Pro-Partner joint marketing program, complete with co-branding, social media, launch event and more with the purchase of each Prism Light Pod red light therapy bed. With our red light pods, we help owners build a successful red light therapy business and boost their income by $100,000 or more per year.