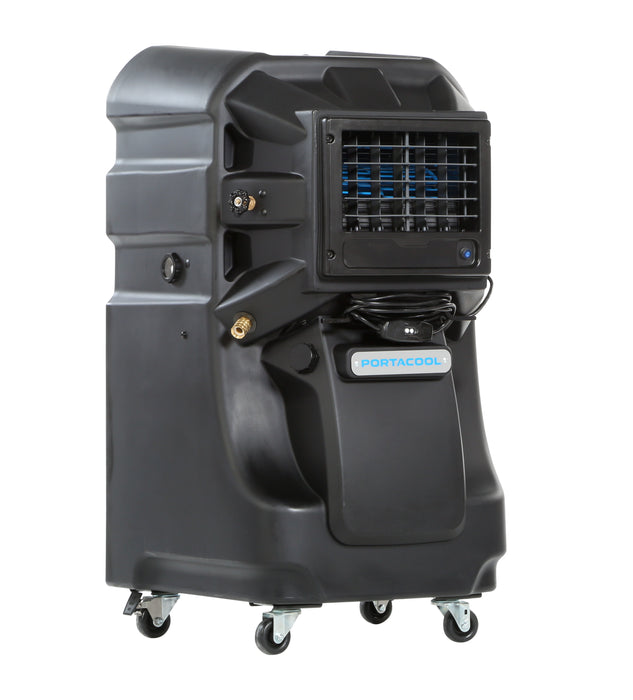 Portacool Jetstream 230 Compact Portable Evaporative Cooler PACJS230
Save

18

%
Save

18

%
Original price
$2,199.00
-
Original price
$2,199.00
Description

Features 

About Portacool
Portacool Jetstream 230 Compact Portable Evaporative Cooler PACJS230
The Portacool Jetstream 230 is the epitome of cooling comfort in a single-person workspace. Engineered with maximum versatility in mind, this efficient and versatile cooler is designed to excel in both open and condensed workspaces. Featuring advanced features such as oscillating louvers, low-water shutoff, and Kuul Comfort MicroTech evaporative media, the Jetstream 230 is the perfect cooling solution for hard-to-cool industrial and automotive shop areas.
Engineered for Unmatched Cooling Performance
When it comes to maintaining optimal shop comfort, look no further than the powerful evaporative coolers in the Portacool Jetstream series. Engineered to up the cooling ante, the Portacool Jetstream packs a punch with its impressive airflow and cutting-edge Kuul Comfort evaporative media. Made exclusively in the USA for Portacool products, this high-quality evaporative media sets new standards in the industry. With Jetstream evaporative coolers, you can experience maximum comfort exactly when you need it the most. These coolers are designed to cool larger commercial and open spaces, ranging from 700 to 5,625 square feet.
Unparalleled Benefits of Jetstream Evaporative Coolers
Jetstream evaporative coolers offer a powerful and flexible cooling alternative, especially in situations where traditional air conditioning may not be feasible or cost-effective. Here are some key reasons why you should choose the Portacool Jetstream series:
One-Pass Cooling: With a single pass, Jetstream evaporative coolers can lower the air temperature by as much as 30 degrees Fahrenheit. Even if you need to keep the door open in your shop, garage, or factory, these coolers deliver exceptional cooling performance.

Easy Installation: Say goodbye to complex installation processes. Jetstream evaporative coolers require no extensive installation. Simply find an outlet (most models use a standard outlet, although some may require a 220-volt) and plug in. You can rely on the large water reservoir or connect a hose for continuous and hassle-free cooling.

Energy Efficiency: Jetstream evaporative coolers leverage the air's own heat to create cool air, resulting in energy consumption similar to that of a large fan. By harnessing the power of evaporative cooling technology, these units ensure efficient operation without excessive energy costs.

Ultimate Portability: Equipped with sturdy casters, Jetstream evaporative coolers offer unmatched mobility. Whether you need to move them around your garage, factory, or shop, these coolers are designed for convenience. Even the largest models can be lifted by two people and easily transported in a truck for off-site work or events like races.
Elevate Your Cooling Game with Portacool Jetstream Series
Say goodbye to uncomfortable working conditions and take control of your shop's comfort with the Portacool Jetstream series. Engineered for optimal performance, these evaporative coolers provide unmatched cooling power, enhanced flexibility, and effortless portability. Don't let extreme temperatures hinder your productivity – invest in the Portacool Jetstream series and experience a new level of cooling comfort.
Upgrade your cooling game today and enjoy the benefits of the Portacool Jetstream series. Stay cool, comfortable, and productive in any challenging environment with Portacool's superior cooling solutions.


Step up your cooling game with this versatile evaporative cooler
Perfect for cooling individual bays or work stations
Oscillating louvers help delivered cooling where you need it most
Kuul Comfort MicroTech™ evaporative media
Low-water shutoff and cord wrap included
Specifications
Air Delivery: 

3,600 CFM / 6,116 m3/hr

Velocity: 

27 mph / 43 kph

Amps: 

8.3

Speeds: 

Variable

Cooling Capacity: 

900 s.f. / 84 m2

Water Reservoir: 

30 G / 114 L

Dimensions (inches): 

50 H x 29 W x 27 D

Dimensions (cm): 

127 H x 74 W x 69 D

Weight: 

108 lb / 50 kg

Decibel Level: 

High- 68 / Low- 62

Electrical Requirements: 

Standard 115v

National Stock Numbers: 

4120-01-652-2094
GREAT PRODUCTS START WITH A STRONG COMPANY

Portacool™ portable evaporative coolers

 

entered the marketplace in 1990 offering the first version of an evaporative cooler designed to provide economical, effective cooling where ever it was needed. Thirty years later, the company's consistent growth rate and continued expansion in product lines has positioned it as a global leader in the

 

portable evaporative cooling

 

business with distributors in 50 U.S. states and 56 countries.
Portacool, LLC selected Center, Texas, for its location in the beginning and has never considered moving. Nestled in the beautiful piney woods of East Texas — 150 miles southeast of Dallas, 120 miles northeast of Houston and 17 miles west of the Louisiana border — this small town still maintains the look, feel and hospitality of the original community. However, the town has enjoyed modernization due in large part to the manufacturing and technological advances of companies like Portacool choosing Center as their location.
Portacool portable evaporative coolers have proven highly effective in unlimited uses ranging from agricultural and horticultural applications, manufacturing, industrial, business, entertainment, sports, home, and hobby — anywhere cooling is needed and traditional air conditioning is impractical or cost prohibitive. With a strong network of distributors, Portacool, LLC continues to expand its worldwide market horizons and produce outstanding sales revenues, all from the beautiful setting of Center, Texas.