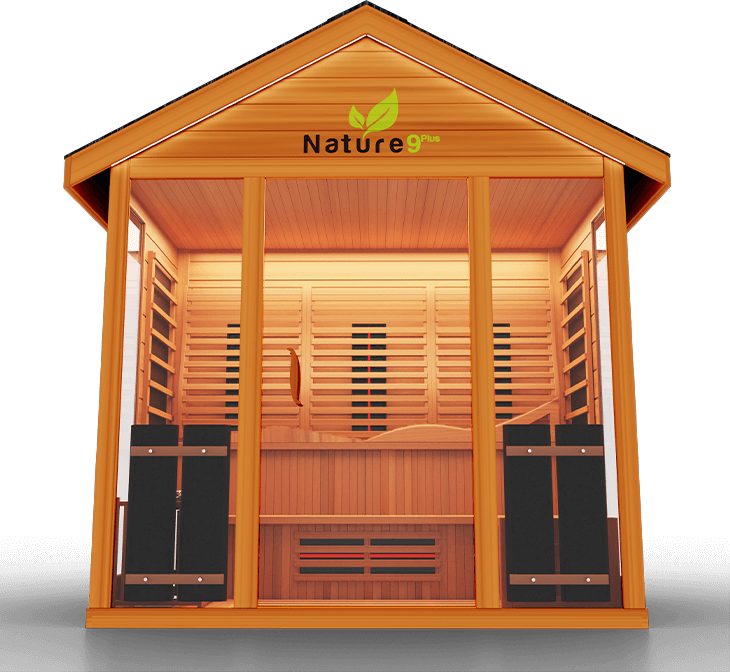 Medical Saunas Nature 9 Plus Outdoor Infrared and Steam Sauna
Original price
$15,999.00
-
Original price
$16,994.00
Description

Features

Specifications

About Medical Sauna
Medical Saunas Nature 9 Plus Hot Yoga Outdoor Infrared and Steam Sauna
The Nature 9 Plus is a hybrid sauna with 15 Ultra Full Spectrum Heaters™ - which have shown to be stronger than typical infrared heaters - and 1 traditional sauna stove. This hybrid system allows you to fully reap the benefits of both sauna types with no compromises in quality.
The Extra Rapid Internal Heating System™ is a key component of this line of saunas which ensures that it becomes fully heated up to 2x faster than other competing brands. The skillfully designed 3D Heat Therapy™ and Extra-Insulated Airflow System™ make sure that your sauna is well insulated, keeping heat in longer and giving you the full range of benefits with heat penetrating deep into the body's tissue and cells. With 15% thicker tempered glass and wood panels, this sauna is the most efficient of the Nature series.
When designing the Nature series of saunas, Natural Red Cedar was carefully chosen for two primary reasons. Firstly, it is known for its medicinal qualities. Red Cedar is known for its astringent properties, which helps to contract body tissue and cleanse your skin. Secondly, it is a naturally durable wood which hardens as it ages so that you can be safe in knowing that your sauna will stand the test of time.


This Nature 9 Plus Hybrid Sauna kit comes with removable benches which allows you to use your sauna exactly how you want. With the rise in hot yoga throughout the country, you no longer need to head down to your local studio. Instead, simply remove the benches, set the temperature just right, and begin your yoga practice. To complement the benches, we've included an ergonomic backrest and Full Bench Lounge Seating™ for your comfort.
This model can be controlled using the Simple Touch Interior & Exterior LED Control Panel™ so that you can control the heaters before even stepping foot inside, or without having to disrupt your sauna session. Want to relax to some soothing music or listen to your favorite podcasts? With the built-in speaker system and AUX/MP3 connector, you can do just that. Feel like reading a book? Then we've also got you covered with the Interior Reading Light System™. Your audio is boosted with the new Audio Theater System™ for a truly sensational listening experience
Medical Saunas are designed, developed, and constructed in the US, based on years of documented research. The ONLY sauna designed by doctors. Made to improve blood flow, reduce headaches and migraines, heal your muscles, and achieve absolute pain relief for a better night's sleep.
THE INDUSTRY'S FIRST
 HOT YOGA SAUNA FOR YOUR HOME
The hot yoga movement has exploded across the country, and now you can enjoy all the benefits of a hot yoga studio in the comfort of your own home. In an effort to improve your sauna experience, we created a sauna that is more than just an everyday sweat room. We've increased the dimensions of our traditional saunas and included removable benches. Now with the extra inches you can spread out a yoga mat and stretch your body into your favorite yoga poses, all while enjoying the infrared heating technology that our saunas are known for. Feel the burn and sweat your way to nirvana.

Hot Yoga is the perfect way to detoxify through sweating, boost your blood circulation, and stretch your muscles and joints. Doing yoga in a Medical Sauna in the morning can help you get ready for your day, and using it in the evenings after work can relax you before bed. With just a few Medical Sauna sessions you'll start to feel and look better in no time. If you haven't tried it yet, you have to try it.


A HOT YOGA SAUNA ROOM
 FOR ALL STRETCHES
In order for you to do yoga stretches inside of a sauna, you need a lot of room. Many saunas just don't have the space inside. They also don't have removable benches. Medical Saunas built the Medical 6 Sauna to give you the freedom of enjoying hot yoga in a spacious, stress-free environment.

Yoga poses like the Half Moon, Eagle, and Standing Bow can be especially beneficial when done in a hot sauna. The hot temperatures of the Full Spectrum Medical Sauna can improve your circulation, while loosening your muscles and joints for a better range of motion.
FREE Northwood Sauna Aromatherapy Stone Cup - Essential Oil Diffuser - Natural Rock with Stainless Steel Bowl
$29.99 Value
This sauna aroma stone is made from a natural, durable material

No Installation Needed: The sauna aroma stone holder is ready for spa use right away and does not require installation
✓ #1 Authorized Medical Breakthrough Dealer
✓ Lowest Price Guaranteed + No Sales Tax
✓ FREE & FAST Shipping: In Stock and Ready to Ship
✓ Questions? Talk to a Medical Breakthrough Expert: 1-833-464-6559
The ONLY sauna designed by doctors
Helps to relieve pain, improve cardiovascular health, strengthen your immune system, and detox your body
Easy to install
3 Year Full Protection Warranty
The Industry's First Hot Yoga Sauna for Your Home
Full Spectrum Infrared Technology - Near, Mid, and Far infrared AND Traditional Sauna Stove – A true Hybrid Sauna
Protective Heater Cover
Removable Bench
Backrests included
Natural Red Cedar wood construction – for long term durability and heat retention
Design based on documented research, not guess work
Designed, Developed and Hand Assembled in the US – no short-cuts
Rapid Internal Heating System™ - Your sauna can be fully heated in as little as 40 minutes
The Detox Routine™ - Remove bad toxins and impurities from your body
3D Heat Therapy™ - Improve sore muscles, increase range of motion, decrease muscle spasms, and reduce pain
Skin Rejuvenation/Cleansing System™ - Heating technology can cover every square inch of your body and leave your skin feeling soft, fresh, and new
FULL SPECTRUM
 INFRARED TECHNOLOGY
Medical Sauna's Full Spectrum heaters represent a revolution in sauna heater technology and can provide an invigorating session unlike anything you've ever experienced before. Most other infrared saunas only offer heaters that release infrared waves near one end of the spectrum, which means that the healing benefits from those sauna sessions are diminished. Our heating technology in our Medical Saunas offer a full spectrum of wavelengths: near, mid, and far infrared. A full spectrum heater is important because each spectrum of infrared waves provides different levels of skin penetration and light therapy. This means that you will get even more benefits in your sauna session and will truly start to feel more relaxed and healthier, each and every sauna session.
PROTECTIVE
 HEATER COVER
It's important to keep all things in mind when buying a sauna. Sometimes a customer thinks of things that a company has not thought of. At Medical Saunas we want to make sure that we thought of every possible feature that a customer needs, including the important safety features. A lot of companies don't provide covers over their heaters, which can get hot and become a hazard to the customer.


With safety as a priority, Medical Saunas protective heater covers are made with the same wood as the sauna to keep the same aesthetic appeal.
REMOVABLE
 BENCH
Some saunas are harder to put together than others. A lot of the saunas from different companies don't have customizable features to help you get more comfortable with your sauna. Medical Saunas want you to be able to use your sauna in a way that perfectly tailors to your every need. The removable bench is perfect for obtaining more standing room as well as more room for movement while using your Medical Sauna.
BACKRESTS
 INCLUDED
Because sauna sessions sometimes include prolonged sitting, a backrest for your sauna is a must-have. Most companies that sell saunas don't sell backrests, and the companies that do, don't include them with your sauna. We don't believe in charging an extra fee for comfort.


Our ergonomic backrest design suits anybody who is looking for back support and comfort while using a Medical Sauna, all at no extra cost to the customer. Each and every Ultra Full Spectrum Medical Sauna includes multiple backrests to accommodate any seat and user in the sauna.
Power Usage/Amps
Amperage: 30 Amp
Voltage: 220 - 250 V
Wattage: 3300 W (Infrared Heaters) / 6000 W (Traditional Stove)
Interior Dimensions
Width: 75"
Depth: 69"
Height: 78"
Exterior Dimensions
Width: 80"
Depth: 73"
Height: 97"
Weight
605 lbs
DURABLE NATURAL RED CEDAR
 CONSTRUCTION
One problem that affects a lot of other saunas on the market is durability. When you first get your sauna, it may work fine, but after a few months of usage, it begins to lose heat. This is one of the most common problem that sauna owners face. Durability is a very important part of a perfect sauna because you want to be sure that your sauna can last well over 10 years of continuous use. What's the point of paying for a sauna that doesn't last at least 10 years?

Because we design our saunas from scratch, we could have created our sauna out of any type of material we wanted, but after years of research, we decided to use natural Natural Red Cedar for its medicinal and structural qualities. Natural Red Cedar hardens as it ages, meaning our saunas can actually get more durable the longer your own one. Natural Red Cedar is also known for its astringent properties, meaning it helps cleanse your skin, which enhances the already powerful detoxification benefits of Medical Saunas™. When you step into our Natural Red Cedar saunas you will feel and smell the powerful natural wood aromas, leaving your skin feeling tightened and refreshed.
BASED ON DOCUMENTED
 RESEARCH
Medical Saunas™ are based purely on documented studies. While many of our competitors make baseless claims without any proof, or worse, pseudo-scientific proof, we only list the medical benefits that have been found in documented studies. This is important to us because you deserve to have as much valid information as possible before you make a decision about your health. Because Medical Saunas™ are backed by documented research, you will really see how big of a positive impact regular heat therapy can have on your health.
We are extremely careful which products we put our name on. Because we make sure every product we create works for you, we only create products with an overwhelming body of documented research behind them. Improving your health is our top priority.
ZERO
 COMPROMISES
Medical Saunas™ are designed, developed, and hand assembled in the USA, and we ship them directly from our Los Angeles factory. We work with medical doctors, cardiologists, and pain specialists who have the same desire we do—to deliver great health to all of our customers.

We accept nothing less than perfection so we are in control of the product from start to finish; we don't allow any middlemen to compromise our vision. You can purchase our saunas directly from us with confidence, knowing that you're getting an unmatched product.
Rapid Internal Heating System™
An important feature that you should look for in a sauna is its heating capability. Most saunas, as shown on the left, only heat part of your body and can take nearly an hour just to heat up your sauna. This means you end up with less time actually spent inside the sauna, resulting in less healing and relaxation for you, not to mention increased energy bills, which means more money out of your pocket for less. That's why we made the Medical Saunas™ with our Rapid Internal Heating System™. We are the first and only sauna to have it. The average sauna takes 90 minutes to 2 hours to pre-heat, but Medical Saunas™ can be fully heated in as little as 40 minutes. It outperforms the competitors and reaches the perfect temperature in a time that no other sauna can compete with. This powerful heating system allows you to be in your sauna immediately when you need it most.
Benefits of the Rapid Internal Heating System™
Another advantage to the creation of our Rapid Internal Heating System™ is that it
can increase your endurance and strengthen your immune system. While other saunas may take 10 - 15 minutes to work up a sweat, when you step into our sauna, you will begin to sweat almost immediately. A rapidly heating sauna simulates the effect of working out because it increases your internal body temperature at a similar rate. Not only does this increase your heat tolerance, which leads to improved athletic performance, it also stimulates your immune system, which can make it better at fighting off infections and disease.
By using our sauna regularly, you will be actively improving your ability to withstand greater heat. This will give you a better performance in the gym, on the trail, or in the field. A common complaint among sauna users is that they want a quick recovery for their bodies by using a sauna, but many other saunas can't provide this with their current heating systems. The Rapid Internal Heating System™ meets the needs of an average sauna user or an intense athlete. The system heats the Medical Sauna™ and your body up so fast that blood flows more quickly to your tired and strained muscles. This helps them recover faster and relax much quicker. Our perfectly engineered heating system will put your body at ease and you will feel completely renewed.
Hot/Cold Cleansing System™
Most heating systems in other saunas are too slow to heat up, making the benefits of warm up and cool down rounds that are recommended by so many sauna users and experts nearly impossible to achieve. Hot/Cold therapy has many health benefits, such as relaxing muscles and improving flexibility. The Medical Sauna™ has been designed to capitalize on this therapy method with our extremely powerful and efficient heating technology. The Rapid Internal Heating System™ is the most effective system that can achieve hot/cold therapy and allow you to reap the benefits and start improving your health.
The Detox Routine™
While most saunas say they can remove some toxins from your body, they miss some of the more dangerous ones to your health. Regular use of a Medical Sauna™ can remove bad toxins and impurities from your body. Many of these toxins are found in substances we use or are exposed to every day, such as BPA (found in many household plastic items), toxic heavy metals, phthalates (found in most fast foods), and nicotine. Medical Saunas™ are the industry leaders in removing toxins from your body. By following The Detox Routine™, regular use of a Medical Sauna™ will repeatedly enlarge the pores on your skin and flush out the harmful toxins inside your body, leaving you feeling energized and purified.
Insulated Airflow System™
For too long, sauna users have experienced unwanted temperature fluctuations in poorly designed saunas, resulting in less healing and higher energy bills. The insulation of a sauna is just as important as the heating system because it allows the temperature inside to remain constant. We have developed a design that works with our heating system, and uses the temperature inside the sauna to keep your sauna at a constant temperature. This means you can keep your sauna at the right temperature with less effort, and receive the maximum health benefits from our Medical Sauna™.
3D Heat Therapy™
Medical Sauna™ is the first and only sauna on the market to offer 3D Heat Therapy™. Heat therapy has many benefits for your body including improving sore muscles, increasing range of motion, decreasing muscle spasms, and reducing pain. The 3D Heat Therapy™ works by penetrating deep into the body's tissue and cells as temperature rises, which leads to therapeutic benefits all over your body. This improved version of heat therapy, found only in a Medical Sauna™, will rejuvenate your body from the inside out.
Safe Cool Down System™
No other sauna on the market has engineered an airflow system that creates a safer and more efficient cool down stage after using your sauna. An important health practice to follow when using a sauna is allowing your body to cool down gradually after a session. Medical Sauna™ has aided your cool down stage, as its design allows hot air to escape slowly from the sauna. This cools down your body at the recommended pace, and prevents possible health complications from changing temperatures too quickly. As a very vital process for a sauna owner, we felt it was necessary to design a cool down system in our saunas that will keep you safe.
Skin Rejuvenation/Cleansing System™
Only Medical Sauna's™ heating technology can cover every square inch of your body and leave your skin feeling soft, fresh, and new. This is because of the Natural Red Cedar wood used in the Medical Sauna Series™ and our powerful heating system. These two features remove dead skin cells from your body, allowing your pores to open wider, which results in increased blood circulation near the surface of your body, healing your skin. After just one session in a Medical Saunas™ your skin will feel younger and refreshed.
Medical Saunas™ are more than just relaxation tools because they were designed to help heal your body. Because of all the doctors that came together to help design and engineer the Medical Sauna™ and their 100+ years of combined experience, there are lots of medical benefits you can receive by using it daily.
Let Us Tell You Our Story - 

From the Beginning...
There are many saunas available on the market, but they lack one critical factor — they were not designed by doctors. There are a lot of documented studies about how effective saunas are at relieving various medical conditions. For that reason, we were surprised to discover that virtually no company was manufacturing a true medical sauna backed by doctors. Although we were happy to wait for another company to develop the perfect sauna, after years of waiting, it became clear that was not going to happen. We grew tired of waiting. This is why we started developing our very own Medical Saunas™.
Medical Breakthrough Has Many Doctors Behind It, Here Are Just A Few:
To create the ultimate medical sauna, we worked with many medical doctors, pain specialists, and cardiologists. We spent years researching health benefits of saunas, and added as many medical components as we could find. After 10 years of research and development, we were able to create a sauna with enough medical components that can help you relieve pain, improve cardiovascular health, strengthen your immune system, and detox your body. Because we focused solely on helping your body heal, we decided to call the finished line the Medical Sauna Series.
MEDICAL BREAKTHROUGH

 

DISCOVERY
When the full potential of a sauna is reached, saunas can provide a lot of medical benefits from pain relief to body detoxification and improved cardiovascular health to reduced stress. That's why we spent so much time working with doctors, pain specialists, and cardiologists to create the ultimate line of saunas. We developed our award-winning combination of therapies with each feature specifically chosen for the medical benefit it can give you.
WARRANTY

The Nature series of saunas are warranted against defects in materials and workmanship under typical/residential use for a period of three (3) years, from the date of receipt of product by the original end-user consumer, as applicable. This warranty does not apply to normal wear and tear and/or natural weather conditions. Any damage caused by misuse or negligence shall not be covered by the warranty, and neither Sportszilla nor the manufacturer are liable for any injury or damage incurred. This warranty is a parts only warranty and any service or labor costs would not be considered as part of the 3-year warranty.