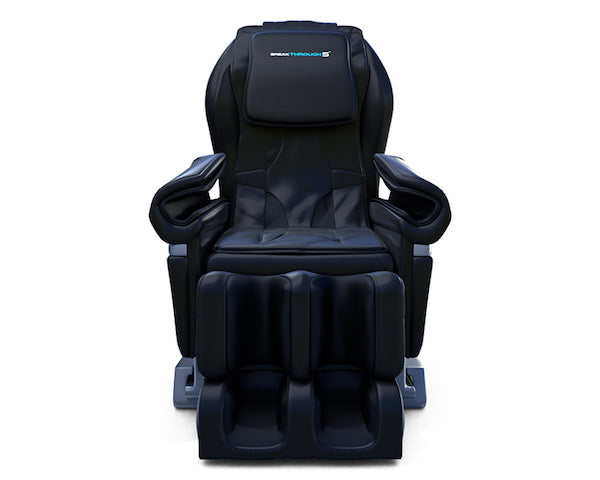 Medical Breakthrough 5 Massage Therapy Chair Zero Gravity Sleep System™
Save

30

%
Save

30

%
Original price
$7,999.00
-
Original price
$7,999.00
Description

FREE GIFT WITH PURCHASE - $49 VALUE

Medical Breakthrough 5 Features

FAQ

Your Satisfaction with the Medical Breakthrough 5 is Guaranteed
Medical Breakthrough 5 Massage Therapy Chair Zero Gravity Sleep System™ 
The Medical Breakthrough 5 is engineered to help fix your posture, reduce pain throughout your entire body, and help you fall asleep. Medical Breakthrough has always strived to bring massage chairs and medical science together, and this chair is no exception.
The chair features Medical Breakthrough's Zero Gravity Sleep System™, which will assist you in finding the optimal position for your maximum comfort. The Full Body Stretch function holds your hips in place while your legs are pulled down and your back is stretched and the highly advanced Smart Medical Scan™ technology will detect every part of your body, and deliver a targeted, soothing massage.
Medical Breakthrough chairs are more than just massage chairs, they were designed to help heal your body. Because of all the doctors that came together to help make Medical Breakthrough Massage Chairs possible, and the 100+ years of combined experience, you can be confident in the medical benefits you will receive from a daily massage from one of our chairs.
FREE GIFT WITH PURCHASE - $49 VALUE
THE USA'S TOP ESSENTIAL OILS: Treat yourself to our bestselling set of 20 ORGANIC OILS. It includes bergamot, cedar, chamomile, cinnamon, eucalyptus, frankincense, geranium, grapefruit, jasmine, lavender, lemon, lemongrass, orange, peppermint, rose, rosemary, sandalwood, tea tree, vanilla and vetiver oils from PREMIUM SOURCES.
PLANT-POWERED FORMULAS FROM AROUND THE WORLD: Regular brands use ingredients grown with GMOs, while we only source ORGANIC ingredients from farms with a commitment to regenerative, earth-kind practices. Our team travels the globe to bring you the PUREST eucalyptus essential oil from Australia, lavender from France, and peppermint from India.
2X MORE POTENT: Most essential oils go rancid quickly once exposed to heat, light and oxygen. They'll begin to smell strange and lose potency. Our FrostProtect bottle keeps oil STABLE for 24+ months, so you can enjoy the ANTI-INFLAMMATORY and ANTIOXIDANT benefits of your oils for longer.
STEAM-DISTILLED FOR 4X LONGER-LASTING AROMA: Regular oils are extracted using nasty solvents like hexane. We steam distill our potent oils to PRESERVE THEIR FRAGRANCE FOR 4X LONGER. This means they're IDEAL FOR USE IN HUMIDIFIERS & DIFFUSERS. Our unique distillation process takes place in small batches in our California apothecary.
100% PURE: Most essential oils on the market include alcohol or cheap, synthetic fillers—companies dilute their purity to cut costs. We never dilute our STEAM-DISTILLED oils, which preserves their UPLIFTING and INVIGORATING properties. Escape the everyday—create a new self-care ritual with LagunaMoon!
✓ #1 Authorized Medical Breakthrough Dealer
✓ Lowest Price Guaranteed + No Sales Tax
✓ FREE & FAST Shipping: In Stock and Ready to Ship
✓ Questions? Talk to a Medical Breakthrough Expert: 1-833-464-6559
Medical Breakthrough 5 Features
Zero Gravity Sleep System™
Full Body Scan - Smart Full Body Medical Scan™
Head to Toe Back Massage System™
4D Massage - True 4D Deep Tissue Massage System™
Lower Back Massage - Intense Lower Back Rollers
Engulfed Arm Massage System™
Quiet Massage
Adjustable Leg Extensions
Wheels so you can easily move the chair around.
Full Body Stretch
Medical Breakthrough 5 Specifications
Operating Voltage: AC 120V, 60Hz
Recline Dimensions, Feet Down: 30 wide x 32 high x 66 deep (inches)
Upright Dimensions: 30 wide x 48 high x 50 deep (inches)
Weight: 275 lbs
Max User Weight: 300 lbs
1. How many boxes does it come in and is it easy to install?
Medical Breakthrough 5 comes in 1 box and is already fully installed. All you have to do is take it out of the box, install the remote, and move it to where you want it placed. Then, lean the chair back and start using it. Then, it is ready to go.


2. Does the chair come with back rollers?
Yes, this chair has quad back rollers that perform deep tissue massages.


3. Does this chair have a vibrating massage?
Yes, it does have a vibrating massage. You can click on vibrating and the chair will perform a vibrating massage.


4. Do I need to install the remote control holder?
The remote control holder comes with the chair but it is optional. You can install it with a few screws or you can just use the remote control without the holder. It works great both ways.
5. Do the wheels extend out for taller people?
Yes it does. It can adjust to any height that is under 7 feet tall.


6. I'm on the 2nd floor, is this chair hard to bring to the 2nd floor?
It's just one box, if you use a dolly, it is going to be very easy.


7. Are there rollers at the bottom of the feet?
No, there are no rollers. It does foot massages with air bags. Only our Reflexology Foot Massage System which comes with Breakthrough 7 & 8 has rollers at the bottom to massage your feet from every angle.


8. What is the max capacity for this massage chair?
It can hold a max of 300 pounds, other models can handle more.


9. Does this chair massage your hips?
Yes, it uses air bags and vibration to massage your hips.
---
Your Satisfaction with the Medical Breakthrough 5 is Guaranteed
3 Year Warranty
Lowest Price Guarantee
Free Shipping & No Sales Tax in the U.S.
UNCENSORED, UNEDITED, UNFILTERED
REVIEWS
To help you decide for yourself how effective Medical Breakthrough 5 is, we have listed REAL, UNCENSORED, UNEDITED reviews, emails and comments from customers who have paid for and used Breakthrough 5.