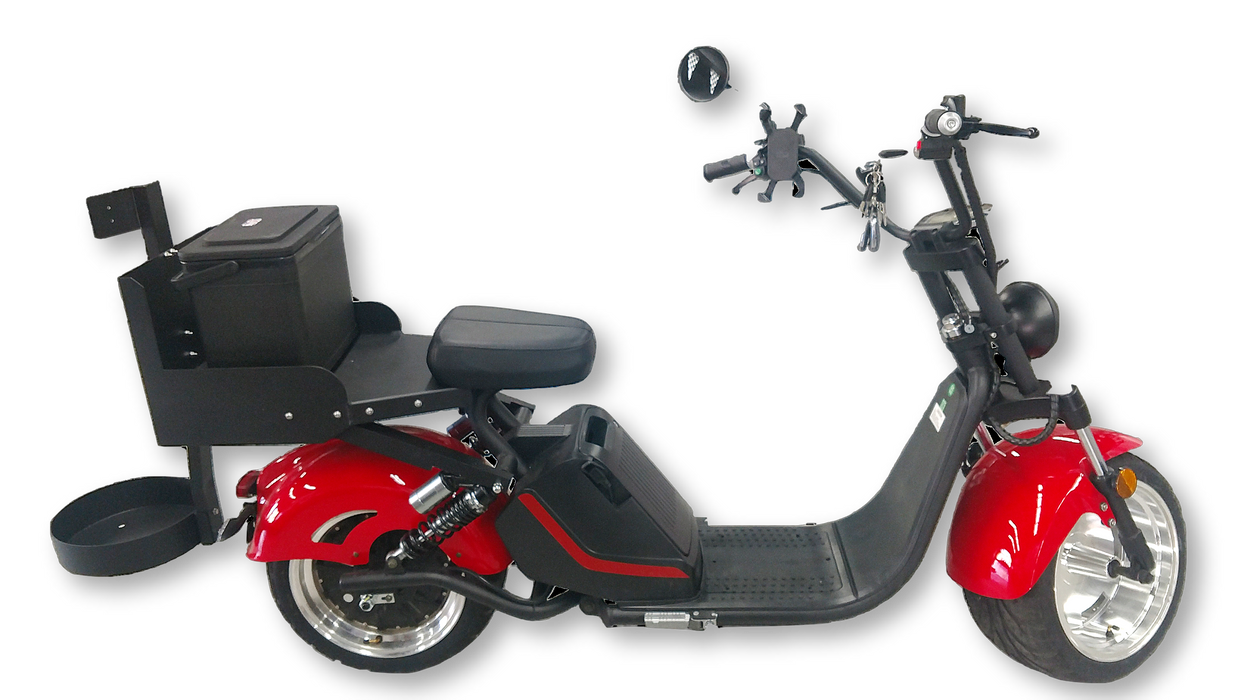 Fat Tire Golf Scooter Cruiser 3.0 Waterproof Motor And Extended Range
Original price
$4,394.00
-
Original price
$4,394.00
Description

Features & Specs
Fat Tire Golf Scooter Cruiser 3.0 Waterproof Motor and Extended Range
The NEW Cruiser 3.0 comes with our powerful waterproof motor with the Lithium-Ion "Quick-Swap" batter for long range!  The "Quick-Swap" battery is the first of it's kind and it extends the range from 18 holes to 36 holes, which is double the time!
Powerful, 3000 watt waterproof motor for superior hill climbing
13" Chrome wheels with low-profile, extra wide radial tires
On-road quality with excellent fit and finish
Lithium-Ion "Quick-swap" Battery (20ah) for longer range (18 – 36 holes)
Front and Rear Suspension for a smooth ride
Well-cushioned seat for added comfort
Heavy-Duty Aluminum bag holder, holds even large Tour Bags
Handlebar mounted platform holds scorecard, pencil, tees, small items, balls, and a drink
One Year Limited Parts Warrant
NOTE: SOCIAL DISTANCING DUE TO COVID-19 HAS CREATED A SUBSTANTIAL INCREASE IN ORDERS!!  AT THIS TIME WE ARE CURRENTLY SHIPPING 1 WEEK AFTER RECEIPT OF ORDER.  YOU WILL BE NOTIFIED WHEN YOUR ORDER IS RECEIVED AND FULFILLED PRIOR TO SHIPMENT!!
The Fat Tire Golf Scooter ships 98% assembled. You'll need to attach the handlebars and Bag Holder. Charges with standard 110v outlet. You can plug the scooter in directly, or take the battery out and charge it separately. Approximately 25 mile range and takes 6 – 8 hours to charge.
3000 Watts (highest of all the Fat Tire Golf Scooters) waterproof motor
63 Volt 20ah Lithium Ion Battery (18+ holes)
Large turf-friendly tires for added stability.
Front and Rear Suspension for a smooth ride
Well-cushioned seat for added comfort
Step-through design for easy on and off.
Heavy-Duty Aluminum bag holder, holds even large Tour Bags
Handlebar mounted platform holds scorecard, pencil, tees, small items, balls, and a drink
SPECS
Dimensions: 78" long (90" with bag holder attached) x 46" high
Wheel Base: 54"
Weight: 190 lbs.
Max Capacity: 300 lbs.
Tires: 215/40-13 Radials on Chrome rims
Motor: High-torque, 3000 Watt, 63 Volt AC Motor
Battery: Lithium Ion "Quick-Swap", 20ah
Charging Time: 6 - 8 hours
Run Time: 18 holes or more (dependent on terrain and rider weight) 
Speed: Limited at 15 mph for course safety (unrestricted, up to 25 mph)
One Year Limited Parts Warranty