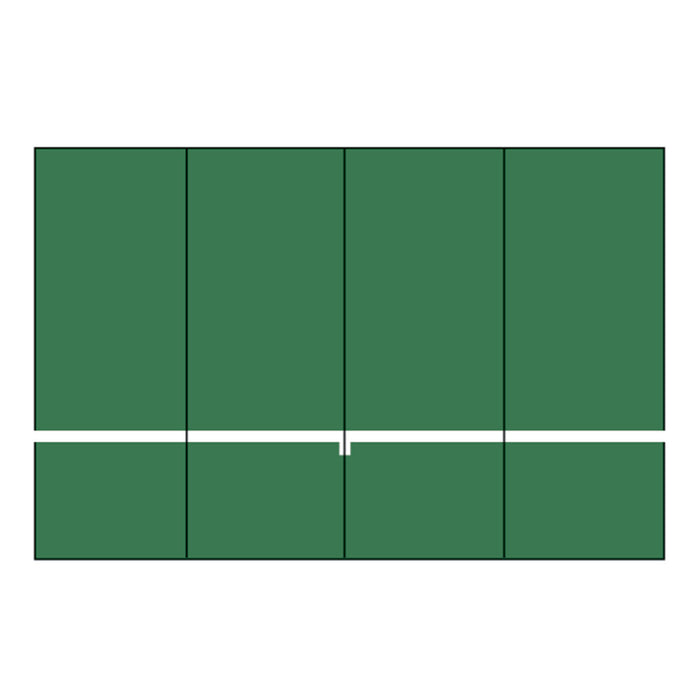 Bakko 10' Fiberglass & Gel Coated Professional Flat Series Backboard
Original price
$6,999.00
-
Original price
$9,899.00
Description

Features

Specifications

Installation

Shipping
Bakko 10' Fiberglass & Gel Coated Professional Flat Series Backboard
The panels of the Professional Flat Series are 2½" thick with metal interior frames dividing each panel into 20 sub-compartments. Each sub-compartment is filled with sound-deadening materials. Panels are encased in thick fiberglass and UV protective gel coat unitized under pressure in large molds. Front and edges of panels are sprayed with a high-quality impact, solar and temperature resistant green polyurethane Imron paint. Panel faces have no holes; attachment is in back with wheels. Wheels allow panels to roll in galvanized metal channels horizontally attached to the fence post. Each panel weighs 150 lbs. This is Bakko's oldest model and over the years, a best seller. Typically purchased by country clubs, resorts, schools and universities, and private court owners. Most commonly purchased bin 20' width (5 panels).
Key features of the Bakko Professional Series Backboard
10' high panels

2½" thickness

Heavy, complex, reinforced metal interior frame

Sound-deadening matrix interior

Encased in thick fiberglass and gel coat

Coated with solar- and impact-resistant polyurethane paint

Wheel attachments to panel backs for easy installation

Steel channels for horizontal supports
Custom Sizes and Colors are Available
If your situation requires a unique size or specialized color combination, Bakko usually can customize backboards using the same Bakko quality workmanship to meet your individual needs.
Custom Sizes
Because Bakko backboards are modular by design, there are nearly unlimited options when it comes to the width of a backboard. It is common for clubs or universities to order backboards that span the entire width of a tennis court. This is easily achieved by adding an additional 4' sections.
Custom Colors and Logos
Universities and schools often order backboards to match school colors; for example, if the school colors are orange and black, they may order six 3' panel backboards, alternating colors of each panel in each backboard. Custom logos can also be incorporated into the backboard. Architects frequently order backboards to coordinate with unusual colored tennis courts or homes. Allow an additional three weeks for custom orders.

Please contact us for more information and the best shipping options.
Panel Construction
Rally master Backboard panels are solid-core, dense plastic with the rich color molded directly into the panel. Density and flexibility combine to make Rally Master the most durable backboard on the market. Rally Master backboards include an industry-leading 20-year warranty.
Reduced Sound
Rally Masters patent-pending vibration dampeners and mounting technique substantially reduce rebound noise. Decibel readings indicate that a tennis ball hitting a Rally Master Backboard is no louder than a tennis ball hitting a tennis racket, and even quieter than a basketball being dribbled on an asphalt court.
Vandal Resistance
The unique Rally Master panel design combines solid dense plastic, enhance with unmatched flexibility and strength.
Versatility
Backboard practice is also great for soccer, lacrosse, and basketball. These uses can ruin other types of backboards.
Permanent Net
Line Rally Master net lines are permanently etched into the panels.
Mountings System

Rally Master has made installation simple by developing a faster panel mounting system. It provides a universal fence bracket that allows the installer to quickly adjust the strut alignment to compensate for fence posts that are slightly bent or out of plumb.
Corrosion-resistant
Hardware Panels are mounted to heavy-duty, galvanized cross braces that are attached to vertical posts using galvanized hardware for unmatched durability.
Sizing

Rally Master Backboards are manufactured in 10' x 4' panels. The minimum size available for purchase is 10' x 12'. There is no limit on length, the only requirement being that the total length is divisible by four feet.
Installation Panel Detail
• Panels to be green with an integrated white net line.
• Solid, 3/4" UV stabilized plastic panels. (150 lbs. per panel)
• Panels are 10' high and available in any 4' wide increment
• Custom colors and custom engraving available
• Highly flexible panel on a patent pending mounting system
Mounting Hardware
The patent pending mounting system includes all mounting hardware.
• (4) 12 gauge, galvanized mounting brackets are mounted horizontally to fence posts • Bottom panel support is powder coated aluminum
• All nuts, bolts and mounting brackets are stainless steel
• Polyethylene dampeners help to reduce sound and vibration
• 8-degree back-sloped models utilize aluminum columns
Mounting Requirements
Rally Master Backboards are generally installed on tennis courts utilizing round pipe. However, they can be adapted to be mounted as free-standing units or mounted on block balls.
• Minimum fence post requirements: 2-1/2" OD pipe, SS40 • Maximum post spacing: 10' on center
Sportszilla is not responsible for the set up of the new backboard.

Shipping company policies state curbside delivery only for residential deliveries.

That means the shipping company will not bring the backboard into your backyard or onto your court. For commercial deliveries, shipping company policies state loading dock delivery or curbside only. You should prepare for receiving your backboard by having people on hand to move the backboard to its intended area of use.

Installation requires more carpentry skill, however it remains very simple and quick to mount. It is quieter than an average wood backboard. It looks much better and does not fade, warp, peel or rot in 2-3 years like wood backboards.  Space required: Width of backboard and length of 40' (service practice requires 39', distance from baseline to backboard). Typically purchased by budget conscious court owners, driveways, schools and parks where noise is not a major issue.



WARRANTY INFORMATION FROM THE MANUFACTURER:

Bakko Bak Bord will honor a ten (10) year pro-rated limited warranty for our tennis backboards. The warranty includes issues such as structural integrity of each panel, no major warping, peeling, delaminating/separating or decomposition of panels. A one (1) year warranty applies to the Imron paint used for the exterior of the panels; this includes cracking, peeling, fading and oxidation. Imron, while the most expensive and an airplane/automobile grade paint, will eventually show signs of age, especially when exposed constantly to the outdoors. The signs include oxidation and light color fading. Different areas will experience paint deterioration quicker than other, for example Hawaii and Florida, with high salt content in the air, tropical climate and intense sun will experience oxidation faster than a state like Nebraska. The location and direction the backboard is situated in accordance to direct sun can also cause longevity of paint. If questions arise regarding panels oxidizing, please contact us and we can assist you in steps to restore your backboard.

The warranty does not cover the following items: vandalism, Acts of God, extreme weather conditions, marking or scratching not related to tennis usage, elements such as tree sap or animals (example: woodpeckers) or improper installations. The installation should follow manufacturer recommendations. The warranty does not cover hardware items such as channel, tape, nuts and bolts; just panels. If in extremely tropical climates, Bakko can provide galvanized or stainless hardware to increase the life span. The warranty is not valid if panels are cut or gouged, exposing the interior structure. Interior structural material exhibiting signs of imprinting on panel face does not constitute a warranty claim. The warranty is null and void if the tennis backboard is used for reasons other than it is intended for, practicing tennis with tennis balls.

The warranty is effective once the bill of lading is signed by receiver. Damage occurring during freight delivery or by the freight company that is accepted without notation as damaged on the bill of lading is not covered by warranty. All damage during shipping should be noted on bill of lading, this is not a warranty issue, but a damage shipping claim from the carrier. All shipments are F.O.B. from manufacturer.

Bakko Bak Bord is in its third decade of business and will assist owners of our backboards with any questions or concerns.