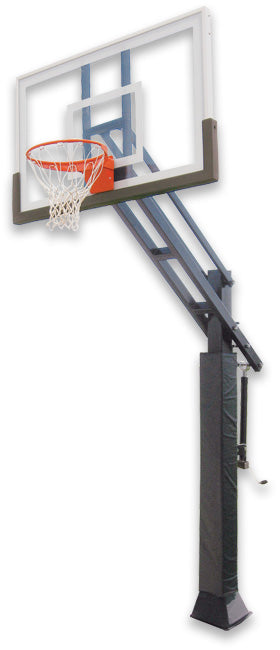 Ironclad 60" Triple Threat Adjustable Height In-Ground Basketball Hoop TPT553-LG
Original price
$2,399.00
-
Original price
$2,399.00
Description

Features

Warranty

Freight Rules
Ironclad 60" Triple Threat Adjustable Height Basketball Hoop TPT553-LG
Want a bigger backboard?  The TPT553-LG is designed as a perfect driveway hoop for those looking a larger backboard.  The TPT553-LG has a larger 60" tempered glass backboard with a 36" offset from post to backboard which fits well on driveways or tighter spaces where playing area is at a premium.  This unit also works well for downsized backyard courts.

The Ironclad Triple Threat TPT553-LG basketball system is the best combination of durability and affordability of any of the Ironclad adjustable goals. This unit fits any driveway or downsized backyard court perfectly.
And don't forget, the backboard is made using 1/2" thick tempered glass, same thickness used in NCAA and NBA backboards for true bounce. The easy to reach crank handle is accessible to any age child or adult. The spring assisted crank design means the goal will be easy for even a 5 year old to quickly crank up or down. Backboard height can be lowered anywhere from regulation 10' down to 5', low enough for any child able to hold a basketball!
Backboard, pole and gusset pads are included free. And unlike competitors, Ironclad offers free anti-rust WeatherSheild protection pretreated on steel structure to prevent rust. As with all Ironclad products, you can rest easy knowing your purchase in covered by Ironclad's Lifetime Limited Warranty covering all components of the goal system. So if you are in the market for a unit that won't overwhelm your driveway, get the unit with the most bang for your buck, TPT553-LG
Premium Driveway Basketball!
Adjusts from 10' down to 5.5' - Lowest adjustment height available. Easy to read rim height indicator shows exact height of the rim.

Effortless Adjustment - Our spring-assist crank design carries the weight of the backboard. Backboard cranks up as easily as it cranks down.

Thick 1/2" Glass Backboard - Unmatched ball bounce off the backboard. 36" x 60" perfect size for backyard basketball.

36" Offset from Backboard to Post - Plenty of room for play under the basket. Helps avoid player contact with the post.

Tough as Nails 5" Post - One piece 7 ga. square pole is extra rigid even under the heaviest slam dunk action.

Breakaway Rim & Net - True gymnasium quality flex goal and net.

Bolt-down Installation - Installation is easy with bolt-down post design. Allows easy goal relocation if you move.

Free Post Pad & Backboard Pad - Keep your players safe with post padding and backboard padding included.

Free Weather Shield™ Protection - Each unit has a zinc galvanized undercoat and then top-coated with black powder coat paint for an impenetrable weather barrier.

Stainless Steel Assembly Bolts

Liftgate Delivery - Your unit will be delivered using a liftgate to assist lowering the unit to the ground off the delivery truck.

LIFETIME WARRANTY! - Entire unit is backed by our lifetime warranty! See product warranty for details.
All basketball systems are covered by our LIFETIME WARRANTY. This warranty includes damage caused by any basketball related activity, which includes dunking and hanging on the rim.* This warranty does not cover damage caused by vandalism.  Any normal wear and tear caused by weathering or UV exposure is not covered under any Ironclad warranty.  All painted items carry a one-year limited warranty on coating. All post & backboard padding carries a one-year limited warranty.  Lifetime warranty extends to original owner only and is non-transferrable.
*GameChanger models warrantied against dunking only.
The freight industry has been making widespread changes over the last few years. Freight companies are implementing more rules and regulations when it comes to deliveries and they are passing the costs on to the shipper. Due to this, we are having to adjust our shipping guidelines. Below are some guidelines that we would like to make you aware of:
• Damage/ Missing Items:
Customer must notate any damage or loss at the time of delivery. All notations must be written on the delivery receipt at the time of delivery. If it is not notated and the damage is concealed or the shipment was dropped without signature, it must be called into the delivering terminal & Ironclad within 48 hours of delivery. We understand that a customer may be ordering an item with the intention of installing at a later date. We ask that the customer inspect the items they received to make sure there is no damage and/or missing packages. If the customer waits beyond 48 hours to report, Ironclad will not be able to file a claim against the freight carrier and the replacement for missing/damaged item will need to be purchased.
• Inside Delivery:
Ironclad does not authorize any inside delivery charge. Should a customer ask the driver to take the product into a garage, backyard, side yard or anything other than up to the driveway, it is considered an Inside Delivery and that fee will be passed on to the dealer. The freight carrier is only responsible to deliver their shipment to the end of the driveway.
• Storage Fees/ Re-delivery:
Please provide your direct number. The freight company will call you directly to schedule the delivery. An incorrect number can lead to storage fees due to the customer not being available. Storage fees will also be applied if the customer is unable to receive the delivery within an allotted amount of time. This is usually within 48 hours of the destination terminal receiving the freight. Redelivery fees will occur when the customer schedules the delivery and then is not present when the freight company arrives to deliver. In that event, the freight will be taken back to the dock, this will cause a delay in delivery and re-delivery charges will apply.
• Reconsignment:
If the SHIP TO address changes for any reason after the shipment leaves our dock, the freight carriers charge us a reconsignment fee. This reconsignment fee is charged to us regardless of whether the change is the result of an incorrect address on the original BOL or if the change is requested by the customer. Additionally, the freight company bills us this charge whether the new address is 1 block away or a different town. The SHIP TO address provided must be the correct address or additional charges will apply.
• Detention Fee:
If the customer is not able to unload the shipment within 30 minutes of the driver arriving, the freight company will charge a fee for the amount of time it takes to unload. It is up to the customer to have the correct equipment to unload their order. Most single units & residential deliveries are able to utilize a lift gate, but some larger portable units and large quantities are not.
If you have any questions, please give us a call.