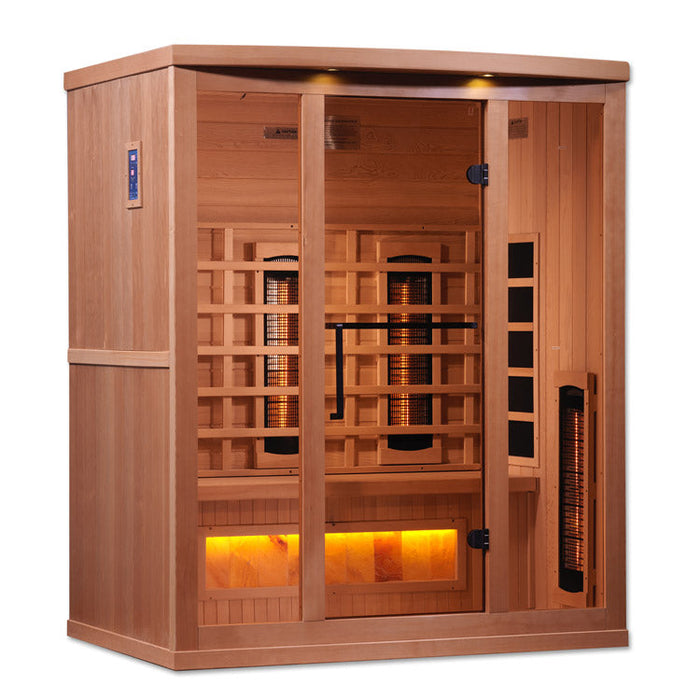 Golden Designs 3-Person Full Spectrum PureTech™ Near Zero EMF FAR Infrared Sauna with Himalayan Salt Bar (Canadian Hemlock) GDI-8030-02
Save

24

%
Save

24

%
Original price
$5,895.00
-
Original price
$5,895.00
Description

Specifications

Golden Designs Warranty

Delivery Instructions
Golden Designs 3-Person Full Spectrum PureTech™ Near Zero EMF FAR Infrared Sauna with Himalayan Salt Bar (Canadian Hemlock) GDI-8030-02
Experience the ultimate in sauna luxury with the Golden Designs 3-Person Full Spectrum PureTech™ Near Zero EMF FAR Infrared Sauna with Himalayan Salt Bar GDI-8030-02. Crafted with 100% Canadian Hemlock Fir, this sauna provides a premium and environmentally conscious sauna experience. With its advanced features and exceptional construction, it's the perfect addition to your wellness routine.
Key Features and Benefits:
PureTech™ Near Zero EMF Heating Technology: The Golden Designs Full Spectrum 8000 Reserve Series utilizes PureTech™ Heating Technology, delivering full spectrum heat while maintaining a near zero EMF standard. Experience the therapeutic benefits of NEAR, MID, and FAR wavelengths without worrying about excessive electromagnetic field exposure.

Superior Construction: Golden Designs Saunas are built to last. The double-paneled walls feature the thickest interior and exterior wood planks in the industry, measuring over 6mm on each side. The wood plank inner frames are also thicker than those of other manufacturers, ensuring excellent heat retention, faster heating, and increased energy efficiency.

Powerful Heating System: The 3-Person model offers 8 Total Heaters, including 3 PureTech™ Near Zero EMF FAR IR Carbon Panels and 5 Near IR Elements. The Carbon Energy Efficient heating panels are 30% larger than ceramic tube heaters, providing better heat distribution and maximizing therapeutic benefits. Unlike ceramic heaters, these panels do not require replacement and heat up 30% faster.

Safe and Comfortable Operation: Golden Designs Saunas operate at a lower and safer temperature of 130o Fahrenheit, allowing for longer and more enjoyable sauna sessions. The soft-touch LED control panels make it easy to adjust the temperature and time, while the built-in FM CD Radio with MP3 auxiliary connection lets you relax with your favorite music.

Easy Assembly and Versatile Installation: Assembly is a breeze and takes less than 1 hour. The sauna can be installed on carpet or any indoor location, including the basement, garage, master bath, or walk-in closet. It plugs into a dedicated 20-amp 120-volt outlet, providing convenience and flexibility.
Indulge in the ultimate sauna experience with the Golden Designs Full Spectrum 8000 Reserve Series with Himalayan Salt. Enjoy the health benefits of near zero EMF FAR infrared heat while surrounded by the beauty and elegance of Canadian Hemlock. Transform your home into a haven of relaxation and wellness.
3 Person capacity
Exterior dimensions (WDH): 62″ x 41″ x 75″ (roof overhang: add 4.5″)
Interior dimensions (WDH): 57″ x 37″ x 69″
Nakamichi FM Radio with Bluetooth and MP3 auxiliary connection
Interior and exterior LED control panel
Oversize interior reading/chromotherapy lighting system
Natural Reforested Canadian Hemlock wood construction
Electrical service: 120V/20amp (consult a certified electrician to install 20 amp outlet and 20 amp breaker)
Exterior Ambient Lighting
Clasp together assembly
3 Carbon PureTech™ Near Zero EMF Heat Emitters (Heating Panels)
5 Full Spectrum Near Infrared Red Heat Emitters 
1 Himalayan Salt Bar (Under the bench)

Bronze privacy tempered glass door
Roof vent
Sauna weight: 390 lbs.
Shipping weight: 505 lbs.
Ships in 3 boxes
WHAT IS AN ELECTROMAGNETIC FIELD (also known as EMF)?
An Electromagnetic Field is a physical field produced by electrically charged objects. It is one of the fundamental forces of nature. The field can be viewed as the combination of an electric field and a magnetic field. The electric field is produced by stationary charges and the magnetic field by moving charges referred to as currents. The magnetic field is measured in milligauss (mG).
Our sauna products have been developed to have low EMF. Our Low EMF sauna models range between an average of 5mG-10mG at about two inches from the heater panel and our Ultra Low EMF sauna models range between 3mG-5mG at the same approximate distance.
Limited Lifetime Warranty: Golden Designs, Inc. warranties the heating elements and electronics against defects in material and workmanship for the life of the product from the original date of purchase. This sauna is for INDOOR use only. Placing your sauna outdoors will VOID this warranty. Any damage due to exposure to outdoor elements such as rain, snow, sun, wind or extreme temperatures will not be covered by this warranty. Any damages as a result of modifications made to the sauna o its components will void this warranty.
Extent of Warranty: This limited warranty applies to products manufactured or distributed by Golden Designs, Inc. under the Dynamic brand name, delivered in the continental United States or Canada and extends to the original purchaser at the original site of installation only. This warranty becomes valid at time of purchase and terminates either by specified time frame listed above, owner transfer, or relocation. Your sales receipt showing the date of purchase of the product is your proof of purchase.
Manufacturer Warranty: All Golden Designs, Inc. products are manufactured with the highest quality appliances and are warranted to be free from defects in material and workmanship at the time of delivery. The appliance warranty is extended through the manufacturer for the product including, but not limited to: stereos, CD/DVD players, etc. All exchanged parts and products replaced under this warranty will become the property of Golden Designs, Inc. Golden Designs, Inc. reserves the right to change manufactures of any part to cover any existing warranty. Any parts determined to be defective must be returned to Golden Designs, Inc. to obtain warranty service. You must prepay any shipping charges, export taxes, custom duties and taxes, or any other charges associated with the transportation of the parts. In addition you are responsible for insuring any parts shipped or returned. You must present Golden Designs, Inc. with proof of purchase documents (including the date of purchase). Any evidence of alteration, erasing or forgery of proof of purchase documents will be cause to VOID this limited warranty. Products on which the serial number has been defaced or removed is not eligible for warranty service.
Warranty Limitations: This warranty does not apply if the unit has been subject to negligence, alteration, modification, misuse, abuse, repairs by nonGolden Designs, Inc. authorized personnel, inappropriate installations, or any case beyond the control of Golden Designs, Inc. invalidating this warranty including but are not limited to:
 * Use of lacquer or paints
 * Sauna and other Golden Designs, Inc. products accessories placed on non-approved surfaces
 * Outdoor applications
 * Normal wear and tear or weathering
 * Use of product not in accordance with instructions
Surface cracks are not considered defects in material or workmanship, as they are normal characteristics of all woods. This includes minor cracks due to wood expansion and contraction. Note: Since the wood used in construction has been kiln dried, a certain amount of expansion and contraction occurs in the wood in a sauna environment.
Disclaimers: Golden Designs, Inc. shall not be liable for loss of use of sauna or other Golden Designs, Inc. products or other secondary or incidental or consequential costs, expense or damages - which may include the removal of permanent deck or other custom fixtures or the necessity for crane removal - arising directly or indirectly out of the use or inability to use the product. Any implied warranty shall have duration equal of the applicable warranty stated above. Under no circumstances shall Golden Designs, Inc. or any of its representatives be held liable for injury to any person or damage to any property, however arising. Specifications are subject to change without notice or obligation.
Legal Remedies: This limited warranty gives you specific legal rights. You may have other rights, which may vary from state to state. Customer Service For customer service, contact your authorized dealer. If you need additional information or assistance, please email Golden Designs, Inc. at info@goldendesignsinc.com or call (909) 212-5555.
*Limited Lifetime Warranty of Sauna Products is 5 years on heating elements and electronics from the date of purchase. The wood structure has a 1 year limited warranty and the radio has a 1 year limited warranty.
Your Sauna will leave the warehouse within 48 hours of  your order.
It will be delivered by freight within 2 weeks to the curbside of your home. 
Golden Designs Sauna Delivery 1 Person Model
Golden Designs Sauna Delivery 2 Person or Larger Model
Unpacking
You will receive the sauna in boxes on a pallet. It will weigh several hundred pounds. You can unpack it in your driveway and bring it inside piece by piece. Or you can put the pallet on a dolly and wheel it inside.
Unpacking your Golden Designs Sauna
Unpacking your Dynamics Sauna
Assembly
You and one other person can easily assemble the sauna in about an hour. Or you may consider hiring a local handyman if you prefer.
How to assemble a Golden Designs Sauna
Model Displayed: 8000 Series Full Spectrum - Near Zero EMF Sauna (GDI-8030-01)
How to assemble a Dynamic Sauna
Model Displayed: Dynamic Series - Low EMF Sauna (Palermo DYN-6330-01)